by Miller Williams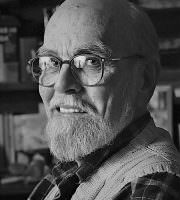 She blinks above her sunglasses at the man
putting the letters up on the movie marquee.
Along the wire he slides an S, an N.
His sleeves are cut away. The marguerita
she presses against her mouth. She feels her mouth
suck in against the salt. She watches the man
test his way descending the step ladder
and jerk it spraddled across the sidewalk.
The sound has her in front of a shingled house,
her mother pushing the screen door open, calling
always. She watches him climb the ladder again.
If she passes that way and speaks to him
he will go off and leave her in a grove of oaks,
the twisted bra knotted about her wrists,
the panties stuffed in her mouth, the eyes.
Last updated October 10, 2022