by Natalie Diaz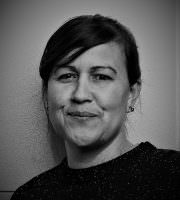 I never meant to break—
but streetlights dressed her gold.
The curve and curve of her shoulders—
the hum and hive of them,
moonglossed pillory of them—
nearly felled me to my knees.
How can I tell you—the amber of her.
The body of honey—I took it in my hands.
Oh, City—where hands turned holy—
her city, where my hands went undone—
gone to ravel, to silhouette, to moths at the mercy
of the pale of her hips. Hips that in the early night
to light lit up—to shining sweet electricus,
to luminous and lamp—where ached to drink
I did till drunk.
Where in her rocked the dark Zikmund—
her, by then, a cathedral tower.
One breast, rose window.
One breast, room of alchemists.
Where from her came a tolling—
the music of yoke and crown,
of waist and sway.
Wanting her was so close to prayer—
I should not. But it was July,
and in a city where desire means, Upstairs
we can break each other open,
the single blessing I had to give was Mouth—
so gave and gave I did.
Every night has a woman for temptation.
Every city has a fable for fruit—
like in the castle gardens, where jackdaws waited
glaze-eyed along the walls for a taste of new—
of figs unsweet yet, yet beryl-bright
enough for wonder.
Not jackdaw, but not different, I—how I destroy myself
on even the least of the sweetest things—
the salt of her burned not long on my tongue,
but like stars.
I never meant to break—but love,
the hymn and bells of her.
Even now, there are nights I climb the narrow stairway
to an apartment at Hrad?any Square, where a door opens
to a room and the shadowed fig of her mouth—
cleaved sweet open, and in me ringing.
From:
Postcolonial Love Poem
Copyright ©:
Natalie Diaz
Last updated December 15, 2022