by Nate Marshall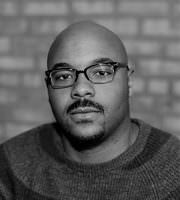 first day of school
1
i would take the bus
to you, walk through
your neighborhood
& navigate the colors.
3
take my student ID
to lunch. it's clipped
in the corner for
free.
homecoming weekend
46
come to the dance.
my hands wand
around your frame
searching for danger.
58
you can wear my letterman jacket
home. if it's the wrong shade
of blue then imagine it around
you while it sits in your locker.
winter break
131
i would
airbrush
you on
a t-shirt.
156
i would fight for you
like my shoes or my
boys or my indescribable
need for contact.
spring break
214
i know all the museum
free days by heart. you
the exhibit i steal touch
from in shadow.
226
i'll stay with you
forever. even after
the streetlights come
on or don't work.
prom weekend
320
jump the broom
or turnstile. no car
except kiss. no ride
except want.
331
this song is dedicated
to you: either r. kelly
or r. kelly. love
ballad or elegy.
graduation
333
you can
hold me
before i
disappear.
Last updated September 27, 2022