by Nate Marshall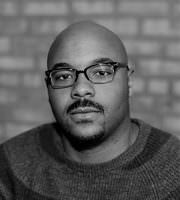 capital city of the flyover.
crown jewel of the jailhouse.
a town in love with its own blood,
a blood browned on its own history & funk.
this hometown of the riot & the riot gear,
the gang & the loitering law.
misfit blocks of dark skinned cousins &
thick knuckled Slavic uncles
who call each other their worst names.
what this country know about a rustbelt
dipped in salt & vinegar & sold as
marked up & rustic?
my city is the city.
not your close enough suburbs not
subject to the suppression of tape
& the tapping of phones.
how can you say anything about our blocks
& schools & children that you refuse to see.
you do not govern what you do not love.
when i say Chicago
i mean that first Haitian cat who could pronounce it right.
i don't mean the fresh out of undergrad looking for adventure
& a consulting job.
when i say Chicago
i mean the stopped & frisked.
i mean the euphemism of frisk.
i mean the beat down & tight cuff.
i mean the drop off in Bridgeport
or Mount Greenwood.
i mean the lessons
taught to an uppity one.
when i say Chicago
i mean the lake
(& i mean all of it).
i mean the candy lady at Rainbow
& the paleta man at Calumet
& the kids careening across the green at Montrose
& the jogger in midwinter daring a death for fitness.
when i say Chicago
i mean Cabrini & Stateway & Ickes & Ida.
i mean the city i'll tell my kids in the past tense.
i mean the rents that sometimes
make me mean Georgia or Indiana or Dolton.
when i say Chicago
I mean the restaurants with no chairs,
just a window & a bulletproof sneeze guard.
i mean a Michelin star for all the ethnics slanging
their seasoned meats & language.
when i say Chicago
i mean my mama's house
that was my grandma's house.
i mean the neighborhood
that was our neighborhood
because fear left
& we said:
we'll make a home here
& we'll stay.
Last updated September 27, 2022