by Peter Riley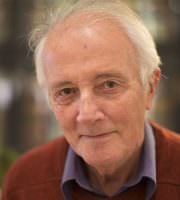 The road to Baghdad, is it level? Do they
kneel beside it to their own passions, ink-
wells of light, the rose that becomes a route?
Only the wounded pass through the gate showing
their red passports, only the killed arrive home
and take their mothers' coffee.
The stained floor of the desert, vultures wheeling
over the tank routes, forgotten tunes in the
far hills. Death steps over the river on stone syllables.
Sky full of stars, body parts flung out of transport systems
or suburban markets, dissolving into the greater
and closer light, moon on silent prophet's tomb.
Is this journey legal? Is it permitted? All that's left
of Palestine, a few small red flowers close
to the ground, a seething patience.
Kneel among them and beg for such patience
while the dove sings in the cedar, the song
of Yes, there will be pain, yes,
There will be horror at the dark traverse.
The coffee simmers on the heater,
its perfume fills the room.
Last updated July 20, 2021