by Benjamin Saltman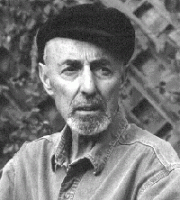 He helplessly watches his daughter
pour out summer on the beach /
chemicals of the plastic ball in the sun
and coconut oil lotion. Sand continents,
the ball seething in a sand kettle.
The baby's head in purple sun smells
like bread / the ball the baby and the sun
are chances between surging water and his towel
trying to make him understand.
Between water and rock each meteor of sand
is glint / is hot with hate
or absence, and the baby drives her stick through
vinyl sand singing "Oh..."
Her first brief look being why it is
and now her plan for popsicle sticks
for her ball and the sun.
Copyright ©:
1979 by Ithaca House
Last updated June 30, 2015