by Norman Dubie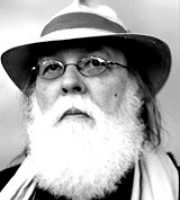 Steam banks chugging out the brick autoclave
under the laundry room, screams rising up chutes
while the sergeant's leg is sawed off above the long sock.
The clock is a black box with lipstick
on it: not awake,
I throw Bill Knotts' last volume
at it . . . two bogies, then, at three o'clock?
a small chinaman and a woman in a white dress
watch the blossoming
hand grenades like running buffalo
whose legs have gone out
under them— dead almost,
eating the sudden shifting geysers of dirt
that circling Cree ponies drift through, invisible
in the mind of a dry old woman,
all colors fading for her
like the smell of her daughter's urine—
the buffalo meet, pyrite crystals
of hashed fruit.
goddamn comma Bill comma but
when I read you
I dream as guilty as Lincoln, at midsummer,
out in the copse yard in the cooling suburbs
of Washington.
Last updated August 11, 2015