by Luis Vaz de Camoes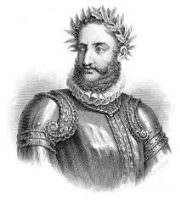 Beneath a green and lofty oak reclined,
Corydon o'er the scale his finger threw
In ivy's shade, whose clinging tendrils grew
Among the trees, and round the branches twined.
Of Amaryllis, nymph for whom he pined,
He sang the loves, love's moving power he knew;
The birds among the branches listening flew,
And lower down did stream of crystal wind.
To him comes Tityrus, who idly roved,
Driving his meagre cattle o'er the plain;
Tityrus was friend of Corydon best loved.
He tells him all his torment and his pain;
By other's speech the embittered is not moved.
Nor grief makes sorrowful the heart that's fain.
Last updated June 21, 2015