by Luis Vaz de Camoes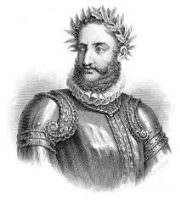 The souls of all were sad in solemn prayer,
Owning the mercy of their Lord Divine,
While in His holy presence so benign,
The tribute that was due they offered there:
My heart till then was free from every care,
Till then my fate had traced an equal line,
When lo! some eyes, too high and pure for mine,
Assaulted all my reason, unaware.
The novel vision struck me wholly blind;
From strangeness sprang the magic charm displayed
By that soft presence, all angelical.
And can I no alleviation find?
Oh! why in births hath Human Nature made
Difference so great, and we her children all!
Last updated June 21, 2015