by Atul Chandra Sarkar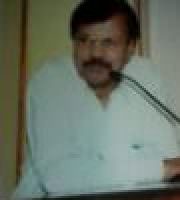 He grew old, he grew cold,
He floated out of sight,
He who enlightened my life,
Departed at the end of night.
The impartial fire took him,
I watched him turn to ashes,
Words came for consolation,
A kerchief for wet eye-lashes.
Days, nights, waxed and waned,
They all went the oblivion way,
He came in reveries and dreams,
Only to go far, far away.
He's no more in his chair,
He's no more in his bed,
I haven't seen him for years,
Yet I believe, he's not dead.
From:
ATUL CHANDRA SARKAR
Copyright ©:
atul chandra sarkar
Last updated January 05, 2016