by Naim Frashëri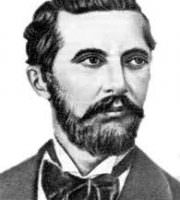 Krujë oh blessed citadel
await, await for Scanderbeg!
Returning as a hued dove
to liberate our motherland.
To unshackle Albanians
from wicked Turkish yoke
and restore your honor
oh crown of Albania.
Albanian braves follow him
fearless in the danger's eye!
In his heart fire burns
he is wise, gallant and manful.
Welcome oh summer
that bring us prosperity
for many years more
may you adorn Albania.
You fair maiden of Albania
pensive in your lingering
undress mourning clothes
the blessed day is here!
Field whiten, mount lighten,
from valiant arms!
In eagerness neigh the steed
that king of Albania brings!
Last updated August 31, 2015