by Kendrick Smithyman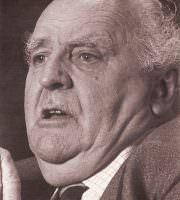 Kendrick Smithyman
Nine days gone, darling, telling
rudely my living off while gulls spilling
downwind their aimless pride
or blackfish tamed by the beach
sense something beyond our reach,
have heard music abroad.
Nine days afraid, of being
afraid, of bedding down, or seeing
blossom go from a cherished tree,
feared moonlight cool on walked track
from guard-post out: and a black
word between you and me.
Nine days nine nights hearing that word
where (my dearest) lovely yet where dead
hand of distances lay flat
across peninsulas, across bays;
but everywhere your mouth, your eyes.
Everywhere our duties wait.
And nine days shadows succeed
night and on a pale sun feed.
Only the brash dwell much on love,
are cunning as they cope with near
and far, or like the taste of fear.
Our times go to deprive.
Nine days cursing caring, tenth
somewhere quickens into breath
branch which was barren, poor sparks
which smouldered make a bold display.
What signal tells I cannot say.
Through thinskinned gully shadow stalks.
Last updated January 14, 2019