by William Alexander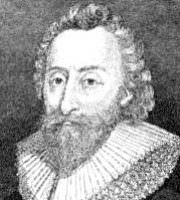 What fortune strange, what strange misfortune erst
Did tosse me with a thousand things in vaine,
Whiles sad despaires confounded did remaine?
Whiles all my hopes were to the winds disperst?
Erected whiles, and whiles again renuerst?
Whiles nurc'd with smiles, whiles murther'd with disdaine,
Whiles borne aloft, whiles laid as low againe?
And with what state haue I not once bene verst?
But yet my constant mind which vertue binds,
From the first course no new occurrence drawes:
Still like a rocke by sea against the waues,
Or like a hill by land against the winds:
So all the world that viewes that which I find,
May damne my destinie, but not my mind.
Last updated January 14, 2019