by Kingsley Amis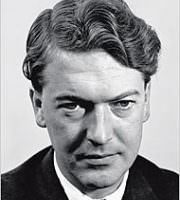 Kingsley Amis
Things tell less and less:
The news impersonal
And from afar; no book
Worth wrenching off the shelf.
Liquor brings dizziness
And food discomfort; all
Music sounds thin and tired,
And what picture could earn a look?
The self drowses in the self
Beyond hope of a visitor.
Desire and those desired
Fade, and no matter:
Memories in decay
Annihilate the day.
There once was an answer:
Up at the stroke of seven,
A turn round the garden
(Breathing deep and slow),
Then work, never mind what,
How small, provided that
It serves another's good
But once is long ago
And, tell me, how could
Such an answer be less than wrong,
Be right all along?
Vain echoes, desist.
Last updated January 14, 2019