by Robert Creeley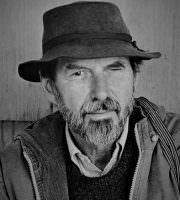 Oh stay awhile,
sad sagging flesh
and bones gone brittle.
Stay in place,
agèd face, teeth,
don't go.
Inside and out
the flaccid change
of bodily parts,
mechanics of action,
mind's collapsing
habits, all
echo here
in mottled skin, blurred eye,
reiterated mumble.
Lift to the vacant air
some sigh, some sign
I'm still inside.
Last updated January 08, 2023
Published in Windows (1990), when Creeley was only sixty-four, "Oh" sounds like the work of a figure in poor health indeed (in fact, the poet lived till 20os). It extends to the depiction of what W. B. Yeats called "bodily decrepitude," and to a very traditional mode of poetic complaint, the new means, new rhythms, and new ways of using small words that a younger Creeley developed for other goals.