by Robert Laurence Binyon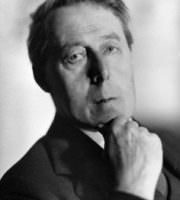 Who are these that come from the ends of the oceans,
Coming as the swallows come out of the South
In the glory of Spring? They are come among us
With purpose in the eyes, with a smile on the mouth.
These are they who have left the familiar faces,
Sights, sounds and scents of familiar land,
Taking no care for security promised aforetime,
Sweetness of home and the future hope had planned.
A lode--star drew them: Britain, standing alone
Clear in the darkness, not to be overcome,
Though the huge masses of hate are hurled against her.--
Wherever the spirit of freedom breathes, is Home.
Soon are they joined with incomparable comrades,
Britain's flower, Britain's pride,
Against all odds despising the boastful Terror;
On joyous wings in the ways of the wind they ride.
From afar they battle for our ancient island,
Soaring and pouncing, masters of the skies,
They are heard in the night by the lands betrayed and captive
And a throbbing of hope to their thunder--throb replies.
To dare incredible things, from the ends of ocean
They are coming and coming over the perilous seas.
How shall we hail them? Truly there are no words
And no song worthy of these.
Last updated January 14, 2019