by Robert Laurence Binyon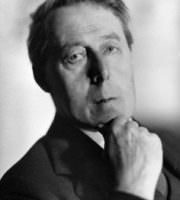 Fly home, my thoughts, that fretting
In alien words all day,
Have longed for the sun's setting
And wished all words away.
Fly home to her that knows you,
And in her heart repose you.
Fly home, my thoughts, and flutter
Like doves to gentle hands.
You need no lips to utter
What her heart well understands.
Her heart will open to you:
From far, my thoughts, she knew you.
Breathe out your breath, like roses,
About her loosened hair;
Soothe each eyelid that closes
With tender murmured prayer;
Your happy vigil keeping
Over her sacred sleeping.
Fly home, my thought's devotion,
Fly fast and there abide.
A barren senseless ocean
Is all the world beside.
Your home is only there, where she
Shrines all the world's desire for me.
Last updated January 14, 2019