by Robert William Service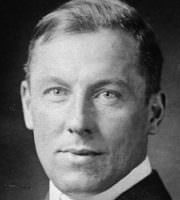 I would rather drink than eat,
And though I superbly sup,
Food, I feel, can never beat
Delectation of the cup.
Wine it is that crowns the feast;
Fish and fowl and fancy meat
Are of my delight the least:
I would rather drink than eat.
Though no Puritan I be,
And have doubts of Kingdom Come,
With those fellows I agree
Who deplore the Demon Rum.
Gin and brandy I decline,
And I shy at whisky neat;
But give me rare vintage wine,--
Gad! I'd rather drink than eat.
Food surfeit is of the beast;
Wine is from the gods a gift.
All from prostitute to priest
Can attest to its uplift.
Green and garnet glows the vine;
Grapes grow plump in happy heat;
Gold and ruby winks the wine . . .
Come! Let's rather drink than eat.
Last updated May 02, 2015