by Sakutaro Hagiwara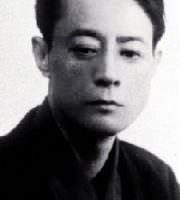 At dawn's light, the skies were lit pale,
On the window, the imprint of fingers, cold,
The high peaks, whitish-turning, stood
Like quicksilver, placidly still and yet,
Travellers slept undisturbed;
Only the jaded lamps' jarring sighs,
Even the sweet shellacky smell,
And so too, the vaguely tobacco-like fumes
Tested a sore tongue on the night train;
But are the complaints from the married woman to continue?
Yamashina has yet to pass by,
So she undoes the air-pillow's plug a wee,
To watch it vent: such are the ways of women-kind.
Then man and wife snuggled up a-sudden,
And stared out the car window by the dawn,
Where on a mountain village, whereabouts unknown,
So whitely bloomed the columbine flowers.
Last updated January 14, 2019