by Sakutaro Hagiwara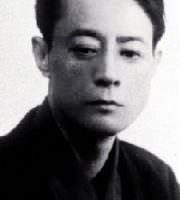 I've always been a seeker of the city,
Seeking the teeming crowd's company.
The crowd is like a big wave that has feelings.
A group formed of singular, lively will and lust,
flowing everywhere.
O, plaintive spring twilight-hour!
What fun getting jostled in the crowd,
And spotting those shadows that interlace the buildings.
Watch the crowd go torentially by,
One wave overlapping another,
Casting numberless shadows that rollick, spread, and
unfurl forth.
Individual plights vanish in these here shadows.
O, what serenity, as I fare my way?
O, what great love of compassion, what innocent joy,
these shadows?
You jolly waves make me feel swept away, bring me to tears.
O, plaintive spring twilight!
These mass herds fin their way around the eaves.
But where are they bound to go, and why?
The one grand shadow over the terrain - which envelope my
sad gloom.
The meditative state drifting on in a current of waves,
O how I wish to ride this crowd, wherever the ride
should take me.
The waves' whereabouts are whisked off over the horizon.
Let's just choose a "direction" and roll along.
Last updated January 14, 2019