by Sean Singer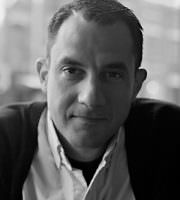 I am the corner and the cab's glow-up roof.
A tuba and air synth march down Stanton St.
Do a rhumba for an espresso foam by the green lights.
Notice how this dude in the yellow pants is embarrassing himself.
Trying their best to dougie to "My Favorite Things"
And a sexy woman poured-into jeans twirl-a-whirls.
When we see what we were in New York
And what we leave behind
Only stay human is great
Leave your weakness in a jar.
Last updated August 19, 2022