by Sonia Sanchez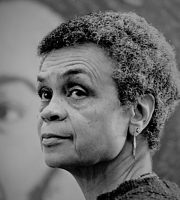 1. death
The day you died
a fever starched my bones.
within the slurred
sheets, i hoarded my legs
while you rowed out among the boulevards
balancing your veins on sails.
easy the eye of hunger
as i peeled the sharp
sweat and swallowed wholesale molds.
2. recovery (a)
What comes after
is consciousness of the morning
of the licensed sun that subdues
immoderate elements.
there is a kindness in illness
there indulgence of discrepancies.
reduced to the ménage of houses
and green drapes that puff their seasons
toward the face.
i wonder what to do now.
i am afraid
i remember a childhood that cried
after extinguished lights
when only the coated banners answered.
3. recovery (b)
There is a savior in these buds
look how the phallic stems distend in welcome.
O copper flowerheads
confine my womb that i may dwell within.
i see these gardens, whom i love
i feel the sky's sweat on my face
now that these robes no longer bark
i praise abandonment.
4. wake
I have not come for summary.
must i renounce all babylons?
here, without psalms,
these leaves grow white
and burn the bones with dance.
here, without surfs,
young panicles bloom on the clouds and fly
while myths tick grey as thunder.
5. burial
you in the crow's rain
rusting amid ribs
my mouth spills your birth
i have named you prince of boards
stretching with the tides.
you in the toad's tongue
peeling on the nerves
look. look. the earth is running palms.
6. (on) (the) (road). again.
somewhere a flower walks in mass
purchasing wholesale christs
sealing white-willow sacraments.
naked on steeples
where trappist idioms sail
an atom peels the air.
O i will gather my pulse
muffled by sibilants
and follow disposable dreams.
Copyright ©:
2021, Sonia Sanchez
Last updated December 20, 2022