by Washington Allston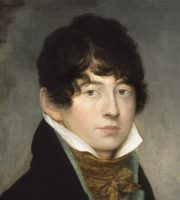 The Earth has had her visitation. Like to this
She hath not known, save when the mounting waters
Made of her orb one universal ocean.
For now the Tree that grew in Paradise,
The deadly Tree that first gave Evil motion,
And sent its poison through Earth's sons and daughters,
Had struck again its root in every land;
And now its fruit was ripe,-about to fall,-
And now a mighty Kingdom raised the hand,
To pluck and eat. Then from his throne stepped forth
The King of Hell, and stood upon the Earth:
But not, as once, upon the Earth to crawl.
A Nation's congregated form he took,
Till, drunk with sin and blood, Earth to her centre shook.
Last updated May 31, 2019