by Theocritus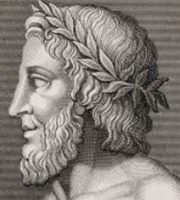 Aphrodite stands here; she of heavenly birth;
Not that base one who's wooed by the children of earth.
'Tis a goddess; bow down. And one blemishless all,
Chrysogone, placed her in Amphicles' hall:
Chrysogone's heart, as her children, was his,
And each year they knew better what happiness is.
For, Queen, at life's outset they made thee their friend;
Religion is policy too in the end.
Last updated January 14, 2019