by Tomás Q. Morín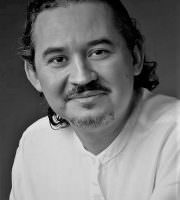 I say "my love" in a reluctant French,
even though I hate the French, not the people
who never did me harm, just the nectar-hearted
sounds of mon amour, mon chérie, that always
live in the right mouth on the brink
of tumbling into beauty, a sad truth
revealed to me when I overheard a socialite
ordering a café noisette on the Champs-Élysées
with the same river of honey
spilling from the lips of a street vendor
offering directions to the nearest toilet.
With all apologies to the French, I'm deaf
and dumb to harmony, unless it's guttural,
which is my shortcoming, one of many to be sure,
and so to the reader whose uncle dresses hair
in Marseilles or whose grandparents sell tires
or blue eggs or both in the wards of Haiti
and New Orleans and Algeria, dear reader,
to you who wonder why my tin ear
even bothered with your native tongue
instead of following Romeo's lead
and saying "O teacher of bright torches," or Goethe's
Die Leiden . . . for that matter, which is no less accurate
no matter how you translate sorrows,
my whole point was to use a romance
language to persuade you cher lecteur
that this is really a poem about love,
and not smoked fish or the vagaries of words,
although one could love a herring
I suppose if the timing was right and the moon
shone just so and the fish could order a pizza
for two in near perfect French,
which I could never do over the phone
in any language without repeating myself,
but which my elegant herring would have no trouble
doing on account of her thinner lips
and mezzo-soprano which has the power to save
some pitiful soul from the torture
of wrestling my mumbled request for black olives,
mushrooms, pepperoni, from English into English.
Copyright ©:
Tomás Q. Morín
Last updated February 23, 2023