by Will McKendree Carleton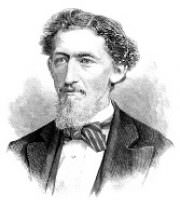 'Tis in the thriftful Autumn days,
When earth is overdone,
And forest trees have caught the blaze
Thrown at them by the sun,
When up the gray smoke puffs and curls
From cottage chimney-lips,
And oft the driving storm unfurls
The black sails of his ships,
Or Indian Summer, dimly fair,
May walk the valleys through,
And paint the glass walls of the air
In tints of dreamy blue,
When Summer is mislaid and lost
Among the leaflets dead,
And Winter, in white words of frost,
Has telegraphed ahead,
When far afield the farmer blows
His fingers, numbed with cold,
And robs from stately corn-hill rows,
Their pocket-books of gold,
When, with a weird and horn-like note,
The cloud-geese southward fly,
In branches leafed with wings, that float
Along the liquid sky,
When to their meals the gobblers strut,
In gastronomic mood,
And little dream that they are but
A food-devouring food,
When chains adorn the chimney-vests,
Of apples hung to dry,
And in his barrel-coffin rests
The porker, doomed to die,
Or, still the recent cruel sport
Of knife-engendered pangs,
His blushing corpse, with lessened port,
Upon the gallows hangs;
'Tis then good prosperous folks display
A reverential cheer,
And thank their Maker one whole day
For all the previous year.
The President proclaims that thus
His duty does direct;
The Governor has written us
Unto the same effect;
Now let the housewife's nets be cast,
And all the poultry kind
Begin to realize, at last,
For what they were designed;
Now rob your fowl-yards of their game,
Till tables groan, anon,
That they who eat may do the same
A little farther on;
Now let your clans of cousins meet,
And talk their blessings o'er,
And thank The Lord for what they eat,
By eating all the more;
Now let your industry's reward
Achieve a fair display,
And hearts and stomachs thank The Lord,
Alternately all day!
The patriarch-farmer, worn and tanned,
Has all his heart alive
To sight his married children, and
Assist them to arrive.
The open gate he rushes through,
With step surprising fast,
And hails the first that drives in view,
"Ho! ho! you've come at last!"
He helps his daughter-in-law alight,
With elephantine grace,
And kisses hard each toddling wight,
All o'er its tender face;
And soon as "Mother" comes and throws
The woman-greeting-scream,
Together with his son he goes,
To help him stall his team.
So constantly new-comers gain
Old greeting from the sire,
And soon they form a sparkling chain,
Around a blazing fire.
And Reminiscence deftly trips
Them and "old times" between,
And tempts their conversation-lips
With memories sweet and keen.
Old happenings are handled o'er,
In stories somewhat true;
The family all is raised once more,
Here in an hour or two.
There is no speech too dull to quote-
The last tale is the best;
Biography and anecdote
Are each an honored guest.
The family-liar may be here;
And is not greatly grieved,
To know his tales, unduly queer,
Are kindly disbelieved;
A-many words are gayly spoke,
Illiterately bright;
And every crippled, veteran joke,
Is stirred up to the sight;
And tales are told of childhoods tipped
With follies wisely hid,
And how the good boy oft was whipped
For what the bad one did;
Of many a brain and muscle bout,
By plastic memory fed,
In which the one who tells comes out
Invariably ahead
(For people's lives, you know full well,
Two sets of things recall:
The one of which they often tell,
The other not at all);
The children romping rush and lurk,
And demonstrate their lungs;
The women ply their knitting-work
With unimpeded tongues.
Live fast, you selfish, thankful throng,
For life to-day is fair,
And when the dinner comes along,
Take in a goodly share!
The future keeps just out of view,
And sorrow waits ahead;
There may be days when some of you
Will beg a bit of bread.
The blessings of this day do not
Secure a future one;
This is to thank The Lord for what
He has already done.
And every laugh, however gay,
By grief shall yet be quelled;
O'er each heart that is here to-day
A funeral must be held.
Laugh on again, with careless voice,
As soon as grace is said!
God loves to see His folks rejoice,
No matter what's ahead.
You're sure of this Thanksgiving -day,
Whose blessings on you fall;
million thanks you should display
For having lived at all.
Grief should be checked, with crafty plan,
But ne'er by dreading nursed;
Care for the future all you can,
Then let it do its worst!
The remnants of the poultry tribes
Lugubriously confer;
Each selfish-sad the loss describes
That worries him or her.
They who survive man's greedy choice-
The thinnest of the clans-
With half raised foot and trembling voice,
Discuss their future plans.
The turkey-orphan now and then
Around her wildly looks;
Her sire is in yon tyrant's den;
She smells him as he cooks.
The mother of the crowing wights
Whose necks were lately wrung,
Leaves her spasmodic appetites,
And plies her mournful tongue;
Or scratches absently about,
Her luckless prey to view,
Forgetting, as she picks them out,
That worms have mothers, too.
Her helpmeet, whose defiant crow
Struck morning's earliest chimes,
Has left her side not long ago,
And gone to warmer climes;
Her dearest friend of heart and kith,
Her gossip and her aid,
The one that she changed cackles with
Whenever either laid,
Has very suddenly moved on-
With close-tied yellow legs-
To where, in days forever gone,
She shipped so many eggs.
The hateful Now each moment mocks
The over-happy Then;
Through sorrow's vale she sadly stalks,
A crushed and broken hen.
Cheer up, old girl, and do not mind
Fate's death-envenomed gibes!
God's bird-regards are not confined
Unto the sparrow tribes.
By Him your shrill, queer mercy-prayer
Was never once unheard;
He built you with as curious care
As any other bird.
Fling off the grief that round you crept,
Your cherished loves to lose;
Contact with friends is naught except
A list of interviews;
And each and all must have an end-
Stars rise, when others set-
If you live right, old speckled friend,
You have a future yet.
Brush by the care that blocks your way!
Strike a progressive mood!
Fly round, and make a nest, and lay,
And hatch another brood!
The pauper will, as like as not,
This festive day abhor,
And try to find what he has got
To thank his Maker for.
With grim suspense of gratitude
He views his last disease,
His ragged bed and broken food,
And says, "It isn't these!"
He brushes, with his mournful eye,
An ancient coat or hat,
And, standing back, with rueful sigh,
Reflects, " It isn't that!"
He thinks of various friends he had,
Who do not stand him true;
And, with a frown indignant sad,
Remarks, "It isn't you!"
And still, he knows his meal to-day
May show unusual cheer,
For Charity, when people pray,
Creeps softly up to hear;
And when their eye she slyly brings
To their abundant shelves,
They send the paupers various things
They do not want themselves.
But food bestowed is apt to be
Unshapely to the eye,
And something of a parody
On food that people buy.
Though may be given with good grace,
And motive quite sincere,
The poor of the provision race
Comes often also here:
The fowl, unclogged with fleshly pelf;
The bread-loaf underdone;
The hash, a dinner of itself-
Ten courses merged in one;
The steak, once stoutly clinging nigh
Some over-aged bull;
The meek and lowly veteran pie,
Of reminiscence full.
But emptiness must ever yet
Deem any filling rare;
And stomachs love to work which get
Much leisure time to spare.
With hearts that thanks can well afford,
They gather, hungry clan,
Around the mildly-festal board,
And do the best they can.
Here two old men, of meek intent,
The past are dwelling on:
How they might have done different,
If they had different done;
They look back, and discern the cause
Of each misfortune past,
And whose rascality it was
That ruined them at last;
Ah, me! they might be wealthy men,
With honors on their brow,
If they had calculated then
As well as they do now!
The idiot in a corner lurks,
And eats in bland disgrace;
Perhaps because his good mind works
In an unhandy place.
You idiot boy, I like you much!
Relationship I find;
Perhaps, indeed, we all are such
To the celestial mind.
Perchance the charter angels call
Us fit for laughter's ban,
Because we've fallen, since The Fall,
A good deal lower than
Themselves, whose sails have had a chance
At Heaven's progressive breeze,
While we 'gainst headwinds must advance,
And toss on passion-seas.
You idiot boy, be vaguely glad;
Your puzzled griefs discharge!
You have some rich relations, lad;
Your family is large.
I rather think, that through some trade
Not understood below,
Arrangements some time will be made
To give your mind a show.
The oldwife feebly gnaws a bone-
Her wits are half awhirl;
To-day she is a withered crone:
She was a handsome girl.
Here is a drudge who's never shirked
Her duty, it appears;
And for herself has only worked
In these her feebler years.
Here is-but let us turn away
From life's pain-printed leaf!
I have known comely hair turn gray
With other people's grief.
Good-bye, dear ones! for you are dear
To souls that yearn above;
If graves could open, you would hear
Some genuine words of love.
The smiles that once your brows caressed
Are still upon you thrown;
Your lips are yet by love-lips pressed;
'Tis but the types are gone.
Good-bye, dear ones! for you are dear
To One most high of place;
And He with research long and clear,
Has studied up your case!
He knows your mind and body pains,
And when to soothe them out;
He knows what yet for you remains;
He knows what He's about.
Your humble path is not agleam
At this praise-spangled date;
Your thank-material none can deem
Bewilderingly great;
But some day, when the time is fit-
On some joy-lighted morn-
You'll thank Him for the whole of it,
As sure as you are born!
The God above! what can we say
Or do, with eyes so dim,
To make this Thursday-Sabbath day
Thanksgiving-day to him?
What love, though grace and beauty clad,
Can thrills to Him impart,
Who all the love has always had
Of every brain-fed heart?
What can we sing to One whose verse
Eternal song unbars?
What give to Him whose cloud-fringed purse
Is crammed with gleaming stars?
A doubly pious way consists,
When we our thanks would bring,
In recollecting He exists
In every living thing;
That when or beast or man we touch
With pity-helping care,
'Tis known in heaven just as much
As if we did it there;
That when our voice in kind behalf
Of any grief is heard,
Heaven's wondrous gold-foiled phonograph
Is taking every word;
That when a heart the earth-heart serves,
Of diamond or clod,
It thrills the universe's nerves,
And glads the soul of God.
Last updated February 10, 2018