by William Gilmore Simms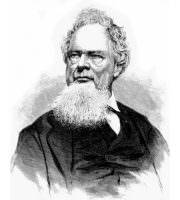 I.
HAST thou a song for a flower,
Such as, if breathed in its ear,
Would waken in beauty's own bower
The spirit most fit to be there?
Then, minstrel, I challenge thy power--
Such song, if thou hast, sing it here!--
Here, where the breeze o'erwearied,
With his travel o'er ocean creeps,
And on the green leaf by her lattice,
Sinks languidly down and sleeps.
II.
For her the sweet music thou bringest
Must in a true spirit be wrought,
And the passion of mine thou singest
Must be pure as the child's first thought.
If none such within thee springest,
Away, for thy presence is naught.
Far better the breeze, at waking,
Should tell her that hopeless I come,
With itself, to the leaf at her lattice,
And laid me down, dreaming but dumb.
Last updated June 27, 2019