by Alfred Austin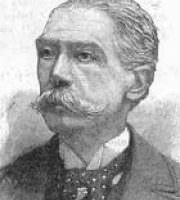 Sweet Love is dead:
Where shall we bury him?
In a green bed,
With no stone at his head,
And no tears nor prayers to worry him.
Do you think he will sleep,
Dreamless and quiet?
Yes, if we keep
Silence, nor weep
O'er the grave where the ground-worms riot.
By his tomb let us part.
But hush! he is waking!
He hath winged a dart,
And the mock-cold heart
With the woe of want is aching.
Feign we no more
Sweet Love lies breathless.
All we forswore
Be as before;
Death may die, but Love is deathless.
Last updated January 14, 2019