by Anne Sexton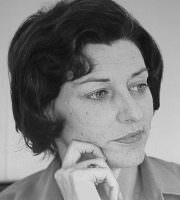 All day we watched the gulls
striking the top of the sky
and riding the blown roller coaster.
Up there
godding the whole blue world
and shrieking at a snip of land.
Now, like children,
we climb down humps of rock
with a bag of dinner rolls,
left over,
and spread them gently on stone,
leaving six crusts for an early king.
A single watcher comes hawking in,
rides the current round its hunger
and hangs
carved in silk
until it throbs up suddenly,
out, and one inch over water;
to come again
smoothing over the slap tide.
To come bringing its flock, like a city
of wings that fall from the air.
They wait, each like a wooden decoy
or soft like a pigeon or
a sweet snug duck:
until one moves, moves that dart-beak
breaking over. It has the bread.
The world is full of them,
a world of beasts
thrusting for one rock.
Just four scoop out the bread
and go swinging over Gloucester
to the top of the sky.
Oh see how
they cushion their fishy bellies
with a brother's crumb.
Last updated January 14, 2019