by Antonio Machado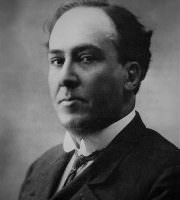 Already the moon rises
over orange groves.
Venus shines in the sky
like a little glass bird.
Amber and beryl light
behind distant mountains
and over the oceans
a purple porcelain sky.
Night in the garden,
water in its fixtures—
the scent of jasmine,
nightingale of perfumes.
How it seems as if
the war were asleep
while Valencia's flowers
drink the Guadalaviar.
Valencia of thin towers
and sweet nights. Valencia,
I will be with you even
when I cannot see you,
the fields grown in sand,
the seas receding to violet.
Copyright ©:
translated from the Spanish by Daniel Evans Pritchard
Last updated November 29, 2022