by Antonio Machado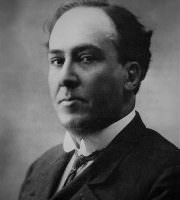 I've seen you, in the ashen park
the poets love
for weeping, like a noble shadow
stray, enveloped in your long frock coat.
The courteous manner,
formed so many years ago
one holy day in the antechamber
—how well your poor ceremonious
bones do their duty!—
Today, tepid afternoon in which the humid wind
tears loose the withered leaves,
I've seen you inhaling distracted,
with the breath the earth exhales,
from the green eucalyptus
the freshness of the perfumed leaves.
I've seen you lift your dry hand
to the pearl that shines on your cravat.
Copyright ©:
translated from Spanish by Richard Greene
Last updated November 29, 2022