by Arthur Chapman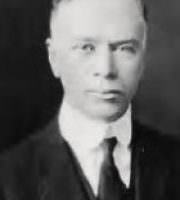 The bunkhouse on the cattle ranch
Was lowly, but at night
When its small window was aglow
We hurried in that light,
And merrily we trooped within
And flung our saddles down,
And there were tales for all to hear
Told by the plainsmen brown.
The bunkhouse walls were papered o'er
With scraps from everywhere -
With pictures of great battleships
And ladies who were fair;
And all could read strange bits of news,
While many comrades' scrawls
Were written there, illegibly,
Upon the bunkhouse walls.
I've traveled many miles since then
But oft, when sets the sun,
I think about the bunkhouse, low,
Where cowboys, one by one,
Came strolling in to chat and smoke
And play a game of cards;
I'd even stand for their long snores -
Where are you, good old pards.
Last updated January 12, 2019