by Arthur Stringer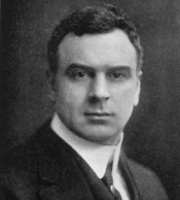 That whin-bred gerrl in heat or cold
Would iver leave the door swung wide,
Faith, wide as in her home av old
Where hares wanst played and peewits cried.
"Ye're in a throublin' city now,
And och, it seems the city's way
To steal and pilfer, Gawd knows how,"
They told her twinty times a day.
"Faith, I could niver ate nor sleep
Widout a bit av sun," says she;
"For sure at home we used to keep
The half-door wide as wide could be."
That whin-bred gerrl, as gerrls have done,
Full wide and open kept her door,
And thought to find her bit av sun
As home-sick gerrls have thried before.
And faith, there soon went thraipsin' thro',
Widout a sash or bar to part,
A city lad wid eyes av blue,
Who left a gerrl wid achin' heart.
Ay, left a girleen av the moors
Shut in widout her thrace av sun,
And wandered on to other doors
As other laughin' lads have done.
"At home," she sobbed, "there's half-doors in
Each singin' heart and cottage wall—
But in the town wid all its sin
Ye can't be free at all, at all!"
Last updated September 07, 2017