by Barbara Duffey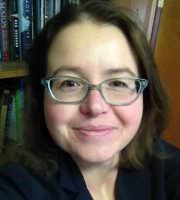 I am the one-woman Splendid Grace Death-Defying Flying Sex Wonder Show.
If you step right up, I'll fall right down. Parachutes pray to Air.
Objects fall to earth at one same rate because God loves all His children equally.
Air Resistance, heathen queen, pushes up against our Lord.
Nylon's buoyant ply will slow me up, hold me steady, sport science like a badge.
I will fall in love with you and it will be the death of me. I am in control.
From the biplane, land looks like hazard glazed with faith; my partner and I fall freely.
I saw her die, dragged over barn roofs. I jump and don't know.
I invent the tandem jump to save the next one's life, grasp her in my arms, fall as one.
I stop when The Voice says, "Stop or you'll die." Instead, I love.
To say The Voice was right would be a fallacy.
Why she was dragged and I was not—Right now, I am all I know.
Last updated December 24, 2014