by Carol Ann Duffy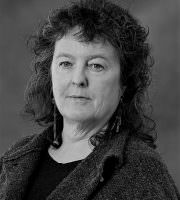 You like safe sounds:
the dogs lapping at their bowls;
the pop of a cork on a bottle of plonk
as your mother cooks;
the Match of the Day theme tune
and Doctor Who-oo-oo.
Safe sounds:
your name called, two happy syllables
from the bottom to the top of the house;
your daft ring tone; the low gargle
of hot water in bubbles. Half asleep
in the drifting boat of your bed,
you like to hear the big trees
sound like the sea instead.
Last updated October 15, 2022