by Carson McCullers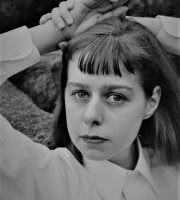 Why are we split upon our double nature, how are we planned?
Father, upon what Image are we spanned?
Turning helpless in the garden of right and wrong
Mocked by the reversibles of good and evil
Heir of the exile. Lucifer, and brother of Thy universal Son
Who said it is finished when Thy synthesis was just begun.
We suffer the sorrow of separation and division
With a heart that blazes with Christ's vision:
That though we be deviously natured, dual-planned,
Father, upon Thy image we are spanned.
From:
The Mortgaged Heart, ed. Margarita G. Smith. Boston - Houghton Mifflin Company
Copyright ©:
1971, Carson McCullers
Last updated June 09, 2011