by Carson McCullers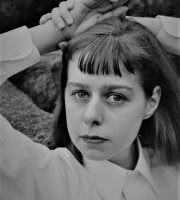 In Autumn the days are blue and gold,
The trees are bright, the days are cold,
The leaves fall whirling in the air,
Whirling and dancing in the windy air.
The leaves are gone after a night of wind and rain
The trees are bare
I wake up scared.
Are the trees dead?
But I am old, I can remember
When trees look dead in cold November.
Green, green Spring, I can remember.
When you fall off a black cliff
Soft as a feather
And open your eyes to bright weather-
You've been asleep
When you are chased by a bad man
In bogging sand,
You've had a nightmare
And wake up scared.
When roses flower in a blizzard
And houses are queer as the houses of wizards
You've had a dream.
What is the meaning of a dream?
KROOCHEY, KAZOOCHEY, KALOOCHIE, KAZEEN.
This is the meaning of a dream
From:
Sweet as a Pickle and Clean as a Pig
Copyright ©:
1964, Houghton Mifflin
Last updated February 21, 2023