by Carson McCullers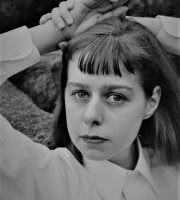 When we are lost what image tells?
Nothing resembles nothing. Yet nothing
Is not blank. It is configured Hell:
Of noticed clocks on winter afternoons, malignant stars,
Demanding furniture. All unrelated
And with air between.
The terror. Is it of Space, of Time?
Or the joined trickery of both conceptions?
To the lost, transfixed among the self-inflicted ruins,
All that is non-air (if this indeed is not deception)
Is agony immobilized. While Time,
The endless idiot, runs screaming round the world.
From:
The Mortgaged Heart, ed. Margarita G. Smith. Boston - Houghton Mifflin Company
Copyright ©:
1971, Carson McCullers
Last updated June 09, 2011