by Carson McCullers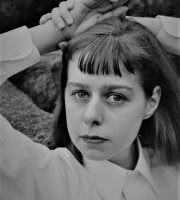 The world dazed by Satanic glares
Like country children spangled-eyed at county fairs
Seeing no terror in trapeze, kinetic thrill of zones above listening,
And the unheeded shrill of the world lost, rocketing in space,
Despairs of those who are struck down upon Hell's floor and die
--or crawl awhile a little more.
The screams are heard by blasted ears within the radiation zone
And hanging eyes upon a cheek must see the charred and iridescent
craze--
Earth orphaned by atom, each man alone.
The furious intellect relating furtherest space to beyondest time,
Exalting abstractions, vaulting the 1 2 3,
Defaulting from the simplest kinship, disjoining man from man,
Seeing across oceans, and stumbling on a grain of sand. Almighty
God!
After the half a million years this is the century of decision
Between obscenest suicide and Man's transfigured vision.
Here are the flowering plant, beast and the dual angel,
The living who struggles with the weight of dead and,
Recognizing victory, surmises radiance in lead.
From:
The Mortgaged Heart, ed. Margarita G. Smith. Boston - Houghton Mifflin Company
Copyright ©:
1971, Carson McCullers
Last updated June 09, 2011