by Charles Baudelaire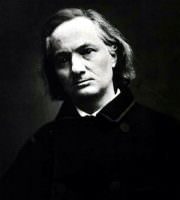 Man, with which to pay his ransom,
has two fields of deep rich earth,
which he must dig and bring to birth,
with the iron blade of reason.
To obtain the smallest rose,
to garner a few ears of wheat,
he must wet them without cease,
with briny tears from his grey brow.
One is Art: Love is the other.
- To render his propitiation,
on the day of conflagration,
when the last strict reckoning's here,
full of crops' and flowers' displays
he will have to show his barns,
with those colours and those forms
that gain the Angels' praise.
Last updated January 14, 2019