by Charles Bukowski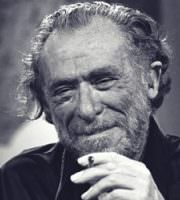 this South American up here on a Gugg
walked in with his whore
and she sat on the edge of my bed and
crossed her fine legs
and I kept looking at her legs
and he pulled at his stringy necktie
and I had a hangover
and he asked me
WHAT DO YOU THINK OF THE AMERICAN
POETS?
and I told him I didn't think very much
of the American poets
and then he went on to ask some other
very dull questions
(as his whore's legs layed along the side of
my brain) like
WELL? YOU DON'T CARE ABOUT ANYTHING
BUT IF YOU WERE TEACHING A CLASS AND ONE OF THE
STUDENTS ASKED YOU WHICH AMERICAN POETS
THEY SHOULD READ
WHAT WOULD YOU TELL THEM?
she crossed her legs as I watched and I thought
I could knock him out with one punch
rape her in 4 minutes
catch a train for L.A.
get off in Arizona and walk off into the desert
and I couldn't tell him that I would never teach
a class
that along with not liking American poetry
that I didn't like American classes either
or the job that they would expect me to
do,
so I said
Whitman, T.S. Eliot, D.H. Lawrence' poems about
reptiles and beasts, Auden. and then I
realized that Whitman was the only true American,
that Eliot was not an American somehow and the
others certainly not, and
he knew it too
he knew that I had fucked up
but I made no apologies
thought some more about rape
I almost loved the woman but I knew that when she walked out
that I would never see her again
and we shook hands and the Gugg said
he'd send me the article when it came out
but I knew that he didn't have an article
and he knew it too
and then he said
I will send you some of my poems translated into
English
and I said fine
and I watched them walk out of the place
I watched her highheels clack down the tall
green steps
and then both of them were gone
but I kept remembering her dress sliding all over her
like a second skin
and I was wild with mourning and love and sadness
and being a fool unable to
communicate
anything
and I walked in and finished that beer
cracked another
put on my ragged king's coat
and walked out into the New Orleans street
and that very night
I sat with my friends and acted vile and
the ass
much mouth and villainy
and cruelness
and they never
knew why.
Last updated January 14, 2019