by Christopher Morley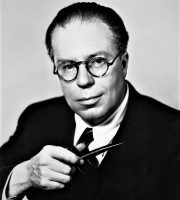 'If the trumpet speak with an uncertain sound,
Who shall prepare himself for the battle?'
In all this time of agony
How does this mighty nation drift:
Our blood is red upon the sea,
The foe is merciless and swift.
We doubt, we sway,
And day by day
Our hearts are thicker with distrust....
We would, should, could, can, may--we must!
So many divers voices call,
And cloud our souls with dull dismay:
O when shall cry, clear over all,
The Voice that none can disobey?
My country, speak!
In no oblique
Uncertain tone; be this our cry:
If Honour is not ours, we die.
My country, speak! They lie who say
That we are soft with love of home;
For still, in all the ancient way,
Our ships shall kiss the perilled foam.
Yea, slow to wrath,
But lo, our path
Leads straight at last, and blithe to tread:
We shall live better, having bled.
Last updated November 03, 2022