by David Lehman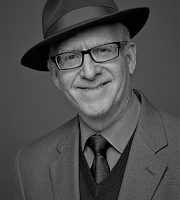 His first infidelity was a mistake, but not as big
As her false pregnancy. Later, the boy found out
He was born three months earlier than the date
On his birth certificate, which had turned into
A marriage license in his hands. Had he been trapped
In a net, like a moth mistaken for a butterfly?
And why did she--what was in it for her?
It took him all this time to figure it out.
The barroom boast, "I never had to pay for it,"
Is bogus if marriage is a religious institution
On the operating model of a nineteenth-century factory.
On the other hand, women's lot was no worse then
Than it is now. The division of labor made sense
In theories developed by college boys in jeans
Who grasped the logic their fathers had used
To seduce women and deceive themselves.
The pattern repeats itself, the same events
In a different order obeying the conventions of
A popular genre. Winter on a desolate beach. Spring
While there's snow still on the balcony and,
In the window, a plane flies over the warehouse.
The panic is gone. But the pain remains. And the apple,
The knife, and the honey are months away.
Last updated May 02, 2015