by Diane Fahey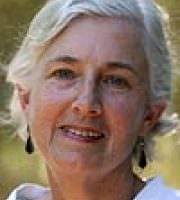 In memory of John Fahey, and for his family
1 Procession
The burying's done. We arrow out
past acres of springing grass
along the damp clay road.
Earth settles, freshly turned.
Going, as coming, we part
threads of rain across
a city's face, reach with one mind
the homeplace … to hover on pavement,
lawn, as if uprooted
from some centre. Swirls of leaves, ash …
Planted in, plucked out of, dry mouths,
cigarettes can bring no respite
from such displacement. The last
car door slams. In twos and threes
we pass into a stale darkness, part
drapes, lay a fire above old ashes
in the grate.
2 Tenth Count
Sober autumn air fosters a clean grief.
Memories that will later blur like smudged
thumbprints, live today in single, separate
details trapped beneath the slide-glass of this
new immediate death: each smile or word so close
and clear, so very far away.
Our minds hover like
wraiths as around us earth breathes and sleeps.
The grave earth, heaped at a discreet distance,
has been covered with sheets of brilliant green
grass: its blades, like plastic coat hooks, will
never grow up, down or old.
Through all my growing
up, memories of these blank, suffering funerals.
As I grow older, they fall faster and harder
than boxers in some Norman Mailer apocalypse …
Knocked down finally, with no time left, they are
carried away, and forever. If they survive to keep on
fighting somewhere, none of us can know it, standing
here in witness amongst these thick stripped trees.
3 Ash
The fourth, last brother is dead before fifty.
Three sisters stood on damp, yielding earth
breathing, amidst city noise and trouble, this cold
pure air. Another year has stopped in early autumn.
Inside the silence of this gathering they hear
winter whistling up a hurricane of old song;
its slow, cold blasts breathe promises of sorrow:
gifts to unsurprised and waiting eyes.
Standing,
breathing, amongst graves old and new, their seasoned
grief adjusts, feeling a new, subtle weight
as of a leaf falling before the throng of leaves —
or after it, a single leaf falling on to open earth.
4 Gatherings
i
Last year in Melbourne somewhere,
a heart failed one morning over
a pay clerk's desk: peaceful, trusting,
but given not one moment for a parting
thought, the 'oldest hippy in Melbourne'
died. Now, in his small South Melbourne
house, companionship, beer — 'as he would
have wanted it': the one thing we really
know for sure. Funeral guests jostle
and smile, sink grog and cups of tea;
wordy apologies for long absence;
old stories, new promises: each remembers
and forgets in different ways, and after
a while all of us have left — tears wiped
away, the sweat of closeness dried,
money paid and settled for the feast …
all is packed up and carried from the empty
house.
And what do we know?
By his bed,
a photograph of his mother, stronger than life,
smiling with heart-breaking, pinched beauty
beside her twelve-year old boy.
ii
At his funeral service the priest remembered,
by turns loving and sceptical, ('No, Johnny didn't
come to mass and so we pray … etc.'), a conversation
on his rounds about old South Melbourne footballers,
and the hospitality and cheer of that long, narrow house.
Soon a right-thinking nephew droned a lush epistle text:
unswerving bee plunged into a wilderness of honey …
Turn out into the churchyard where, twenty years ago,
my grandfather stood propped on one leg, talking to his
Irish cronies after Father Power's ten o'clock Latin mass.
I've walked that asphalt, that asphalt has walked me,
my mother lived in twenty houses around the block
and met my father at the butcher shop.
Only the bluestone
survives simply and does not change; the clean bluestone
surrounds the empty church, shadows the mourners
into their cars.
5 Night Vision
One single grief has power to rouse
a flock of memories.
In rain that drenches earth and stars
air fills
with lovely, errant cries and wings —
a thousand aspen leaves
spun on a wild, dark wind. How many
leaves will fall
before the tree is stilled, the birds
fly back, the sap lies
calm in wells? A violent, laughing flash
has struck fear home,
lit visions of a black and falling tree:
broken, split, its tangled
roots laid bare. How many griefs will pass
before this comes
to pass, and we are all laid bare
uprooted in the wind?
6 Honeycomb
Inside your car, going somewhere else.
Your eyes feel different in the light.
Memories go on and off like bulbs
inside the blinds across a tenement face:
a thousand rooms alive with dust
and sudden awkward cries, and hope …
Within each cell, a locked silence
reverberating with what centuries of grief
and yearning?
But day will come again
with its fresh human voices spreading
like molten honey through the honeycomb.
From:
Voices from the honeycomb
Last updated January 14, 2019