by Diane Fahey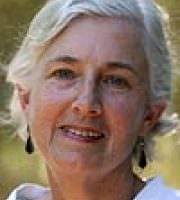 It could happen like this.
You turn the corner of another
night, wake foot to the floor
as the car around you
slides down a mountain.
Today, a journey to be made…
You sit stunned in early light
then clutch the keys, persuaded
the dream relives past crashes—
you've had a string of them.
The odds are longer, now,
you think; in fact, they're shorter.
Out from the city, headed for
shifting white distance…
As if you were someone else
you pass through exhaustion,
fear, throat-holds of panic.
Near dusk, it's hunger and
loneliness that propel you,
are the fuel you burn. Then
the mountains weaving you
into their folds, the sudden turn
towards glass and chrome
stopped on asphalt…A whirr
of reflexes as despair bursts
inside you. Foot to the floor,
an endless skid on gravel.
The car has become a body
aching with miles, a mind
fraught with intentions.
Once more, a lesson; mercifully,
no injury to persons, only
brute metal: the mudguard is
turned back like a skin flap
from a wound — fine carving.
You pray for eyes
that will see levelly.
Last updated January 14, 2019