by Diane Fahey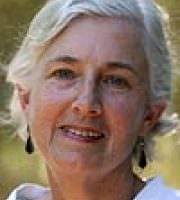 You know, with a woman like that, a man can find
that marriage pays; otherwise, it's a bad bargain.
— Pheres in Euripides' Alcestis
1.
What can Admetus do
but accept her offer?
Above all, he wants to live;
Alcestis is willing to die
in his place. He thinks
that closes the matter.
2.
Until she begins dying.
Now his grief is a death.
He pledges honour, devotion,
abstinence from everything
except her memory. In a trance
she sees Death rowing towards
her, awaits with terror
what she has chosen.
3.
Heracles sits by her grave,
ready to strike a hero's bargain
with Death, who is convinced
and lets Alcestis go.
Veiled, still shadowy,
she re-enters her home
behind her guest and friend,
herself a stranger.
4.
For three days, until purified,
she must not speak. Admetus
feels reproaches gathering
like invisible vultures.
This is his second death,
guilt. But on the fourth day,
she avows her love once more.
He reaches out to where she sits:
serene, almost untouchable.
5.
Is silence, he asks himself,
the most perfect form of irony?
Through the sleepless nights
she is beside him, holding
the cool white cloth to his brow.
If only he knew what she knows …
This is his third death, fear.
It will last for many years —
he has been granted a long life.
Last updated January 14, 2019