by Diane Fahey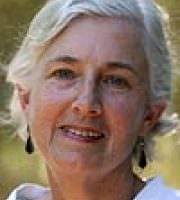 The smoky season. Wind and river running
high, beneath their harsh chorale a silence —
everything changing, held in stillness.
And now warmth blowing back, introit to
an Indian summer. From a narrow strand
I watch the heron's hieroglyphic grace;
mauve-grey muslin screens the further shore;
the clouds are a paste of dissolving pearls.
All else — dogs and people and silver gulls,
river light and tarnished sand — are as clear
as they will ever be. No planes scrape
the sky, the sun will set unseen, and soon
the almost-full moon is there to answer
my gaze, set its cryptic seal on the world.
From:
Sea wall and river light
Last updated January 14, 2019