by Diane Fahey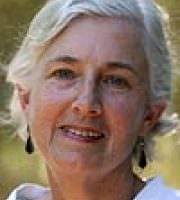 At the opening of 'Lumière du Bout de Monde', Paris, May 1987
There are many who follow news of him and his whereabouts; he invites them to share in his self-doubt and anxieties as well as his triumphs. At 93, he lives each moment to the full with an intensity and commitment to life which would otherwise put most of us to shame.
Hendrik Kolenberg, 'The Australian', May 1988
Once you're born with that kind of light you never lose it. I've been painting from memory for thirty years or so now. As long as you keep in contact with the light itself, as long as you go back every year … it keeps it all alive.
Sidney Nolan, 'The Bulletin', March 1987
1
Painter with great-grandson
are being photographed
in a cleared space
at the centre of a crowd
in a French department store.
Handshakes, canapés, champagne…
Under the platinum glare,
those two pairs of eyes
move slowly, taking the measure,
shine with their own light.
2
Behind them looms Ayres Rock —
a mound of crimson pulp.
Inside it, racks of T-shirts
declaring 'Viva la Wombat'
and 'Beware of Spears'.
From a nest of boomerangs,
a carved snake offers itself
for five hundred francs.
Nearby, baskets of tiny koalas
waiting to be loved and owned.
3
Only by chance
I discover the paintings:
a floodlit zigzag
from 1924 to now.
'Morning Near Parramatta', 1927.
Knife-shadowed eucalypts
absorb the day's still heat;
a man drives horse and cart
into the hazed depth of the town.
'Tasmanian Township', 1972.
A dust-storm of light
envelops all buildings,
their wood and stone
a blue shimmer under
an almond-white sky.
Later paintings are windows
on a clearing mist
through which rise mountain,
harbour, opera house —
mirages of silver fire.
All that has been mastered
can be left behind: solidity
of rock and hill, the precise
edge of darkness splitting
a field; each new image
a deeper re-entry, a setting free.
4
Light remembered,
light hoped for…
Nearly a century of summers
enter this moment:
as if paint were glass
preserving time's transparency;
as if colour were air —
felt on the skin, yet beyond touch;
light the source, and counterpart,
of our belief in it.
From:
Turning the hourglass
Last updated August 18, 2022