by Dollie Radford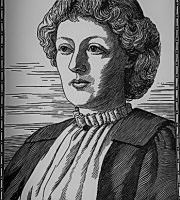 THE tender touch of a gentle hand
To-night on my aching brow,
The sound of a loving low-tuned voice,
How pleasant they would be now;
I think they would send the shadows away
Which hang so closely around me to-day.
And, sitting idly, I close my eyes
And dream how perhaps one day,
In my lonely hours, my long sought friend
Will come to my home and say
"Bring all your tired thoughts to me dear and rest,
No shadow will touch you here on my breast."
I shall not tell her, but she will know;
My rest will be very sweet,
And all the shadow and gloom will go,
Caught up in the toiling street,
And I shall thank her and clasp her hand,
And she will smile and understand.
And if on the morrow we chance to meet
With others, her face will be
Happy and bright for them all, and just
A little kinder for me,
And once I shall look in her eyes, and so,
Learn something there no other may know.
Last updated November 17, 2022