by Douglas Kearney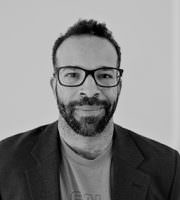 for Deshawn, Eric, Dallas, Jerome & Lerone
We brown boys
play
stick games,
say
nicknames
like BIG D, EVIL E;
and conjure Knievel
with jigsawed dirt bikes
and sewer curbs
for asphalt launch pads.
We all sweat
to know flight
for just
a minute.
We brown boys,
hair
all knaps,
wear
ballcaps'
broken brims. Broken rims
from hungry slamdunks,
pro-ball pipe dreams
over ice cream man's
"Pop Goes the Weasel."
We all hunt
change from cords',
Bermudas
and mamas.
We brown boys—
smack
talking
slap
boxing—
stay bragging and bagging,
drinking summer from hoses
and water bomb barrages.
We throw rocks at garages
making no dents.
We all just
trying to leave
a mark.
Last updated September 25, 2022